A young George Washington Carver ponders the natural world at the George Washington Carver National Monument; image courtesy NPS.
In Search of the Immortals
by Ria Nicholas
I have to admit, I've always been a bit nerdy when it comes to science – not that I'm an expert, mind you. I've just always admired those who are. I trace the origins of my fetish to the legendary Carl Sagan who made science accessible to the masses. For me (and countless others) he transformed the subject from incomprehensible gibberish into something I could actually visualize and grasp – especially through his book and television series: Cosmos.
So it's only natural that I should look for an opportunity to bring a bit of science into my history blog. And, since this month is Black History Month (as if the contributions of Black Americans should be relegated to a single month), I'm taking advantage of the occasion to offer a nod to just a few of my favorite African American scientists – and, of course, to the travel destinations where you can go in search of their genius.
George Washington Carver – So Much More Than Peanuts!
When we consider African American contributions to the body of science, we traditionally recall the incomparable George Washington Carver. Though he was born into slavery, he became the first Black student at Iowa State, where he earned a master's degree in botany. Later, in 1896, he joined Booker T. Washington's Tuskegee Institute to head the school's Agriculture Department.
Known for his intelligence, native curiosity, and skills in agricultural science, he overcame incredible disadvantages to eventually collaborate with Henry Ford, to correspond with Mahatma Gandhi, and to serve as a consultant to the Roosevelt administrations. During his career, Carver developed more than 300 food, industrial, and commercial products we take for granted today, including plant-based plastics, paints, dyes, soap, glue, and synthetic rubber. He also revolutionized agricultural practices, introducing crop rotation to Southern farms to restore the soil – a vital practice for combating the devastation of the Dust Bowl.
So significant were Carver's contributions to the nation, that when he died, FDR signed legislation establishing the George Washington Carver National Monument, the first ever non-presidential national monument. Located in Diamond, Missouri, it invites you to stroll through a museum of Carver exhibits, take guided trail tours, and visit the George Washington Carver birthplace cabin site, among other activities.
Of course, you could also visit the George Washington Carver Museum at the Tuskegee Institute National Historic Site in Alabama. The Museum is located near The Oaks (historic home of Booker T. Washington). For additional things to see and do in Tuskegee, see the article titled Tuskegee Institute: A Roll-Call of Self-Made Men.
Mission Specialist Mae Jemison Keeps Hailing Frequencies Open
Another giant among African American science over-achievers is Dr. Mae Jemison, engineer, physician, and former NASA astronaut, who served as a mission specialist aboard the Space Shuttle Endeavor. Jemison made history as the first black woman in space. A graduate of Stanford University, with degrees in chemical engineering, African studies, and African American studies, she earned her medical degree from Cornell. She served as a doctor in the Peace Corps in Liberia and Sierra Leon, and later established her own private practice, before signing on with NASA's astronaut program.
Throughout her eight day mission in space, she began communications on her shift with the salute "Hailing frequencies open", a regular line from the fictional character Lieutenant Commander Uhura, Black female communications officer in the groundbreaking TV series, Star Trek. (Jemison even appeared in an episode of Star Trek: The Next Generation!)
Never one to rest on her laurels, Jemison also founded a technology research company and a non-profit educational foundation. The author of several children's books, she has made numerous television appearances, received several honorary doctorates, and has been inducted into the National Women's Hall of Fame and into the International Space Hall of Fame.
The National Women's Hall of Fame is located on the 1st floor of the historic 1844 Seneca Knitting Mill on the Seneca-Cayuga branch of the Erie Canal at 1 Canal Street in Seneca Falls, New York. There you will find introductory exhibits to the vision for the Hall once renovations to the Mill are complete.
The International Space Hall of Fame is part of the New Mexico Museum of Space History Campus at 3198 State Route 2001 in Alamogordo, New Mexico. Dedicated in 1976, the New Mexico Museum of Space History is an affiliate of the Smithsonian Museum and celebrates the significant role New Mexico has played in the development of the U.S. Space Program and the exploration of space with displays of important space history artifacts.
Another great way to experience all things NASA and celebrate the achievements of Mae Jemison is to visit Space Center Houston at 1601 NASA Parkway in Houston, Texas. Here you can get a glimpse of Mission Control, gaze at moon rocks, and marvel at the history of rocketry from Mercury, America's first human space flight program (1958-1963), through Artemis, our ongoing program to return humans to the moon.
The Real McCoy – Elijah McCoy, That Is
Elijah McCoy was born in Canada in 1844. His parents had fled slavery in Kentucky via the Underground Railroad but, three years later, returned to the United States to settle in Michigan. Since Elijah always showed a strong interest in mechanics, his parents sent him, at the age of 15, to study in Scotland. He returned as a certified mechanical engineer. However, he was prevented from securing a position as an engineer in the United States due to racial barriers. Instead, he went to work for the Michigan Central Railroad as a fireman, tending the boilers on locomotives, or as an oiler, working on engines in the roundhouse. Since railroads, at the time, were vital to transportation and commerce, he put his intellectual skills to work as a ferroequinologist, inventing ever more efficient ways of keeping the locomotives' moving parts lubricated.
Over his lifetime, McCoy earned more than 60 patents, most having to do with lubrication systems. However, he is also credited with the invention of the folding ironing board, a lawn sprinkler, and other machines. He truly was "The Real McCoy"!
While I'm unaware of a museum dedicated to his inventions, there are several 19th century tourist railroads around the country where you can experience the working environment of Elijah McCoy. Some of the country's top rated tourist railroads include the Durango & Silverton Narrow Gage Railroad in Colorado, the Cumbres & Toltec Scenic Railroad in New Mexico, and the Cass Scenic Railroad in West Virginia. A train ride on any of these will transport you in time while treating you to some of the most jaw-dropping scenery America has to offer. Additionally, you can tour the Age of Steam Roundhouse Museum at 213 Smokey Lane Rd. SW in Sugarcreek, Ohio (about 54 miles south of Akron) from April through November. "Age of Steam" is the first full-size, working roundhouse built since the 1950s. It's 18 stalls house a variety of vintage locomotives and train cars and will give you an idea of what work in a roundhouse was like for Elijah McCoy.
The Cosmic Mind of Neil deGrasse Tyson
Certainly you have seen Neil deGrasse Tyson on TV, explaining the wonders of the universe! A planetary scientist and astrophysicist, he studied at America's top universities, including Harvard, UT Austin, and Columbia and was a post doctoral research associate at Princeton. He also oversaw the $210 million reconstruction project of the Hayden Planetarium, part of the American Museum of Natural History. Here Tyson serves as a research associate in the Department of Astrophysics, which he founded. Tyson is also a prolific author and science communicator, having hosted podcasts and television programs – including, among others, Cosmos: A Spacetime Odyssey, a successor to Carl Sagan's original series. Tyson is the recipient of the National Academy of Sciences' Public Welfare Medal.
---
"Knowing where you came from is no less important than knowing where you are going."

— Neil deGrasse Tyson
---
The American Museum of Natural History is located at 200 Central Park West in New York City. From gems & minerals to dinosaurs – of course! – to human evolution to Worlds Beyond Earth and more, this museum's exhibits will absolutely amaze!
The Immortal Henrietta Lacks – Mother of Modern Medicine
One of the most incredible contributions to medical science was made by Henrietta Lacks. We know little about her life, except that her mother died when Henrietta was only four. She grew up poor and gave birth to five children – the first when she was only 14 years old. In January of 1951, she went to Johns Hopkins Hospital, where she was diagnosed with cervical cancer. She died there in October of the same year.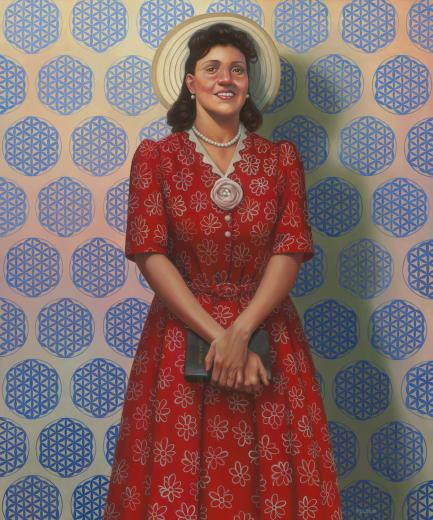 So how did she earn the moniker "Mother of Modern Medicine"? And how did someone who died at the early age of 31 attain immortality?
During her treatment course, a sample of Henrietta Lack's tumor cells was harvested through a biopsy and sent to the medical research lab of Dr. George Gey. The doctor had been collecting tumor cells from Johns Hopkins' patients for some time in order to study cancer and viruses. However, while most of these cells died within a couple of days, Henrietta Lacks' cells didn't die. From these unusual cells, Dr. Gey was able to isolate a specific cell, multiply it, and create a strain he called "HeLa" cells ("He" from Henrietta and "La" from Lacks).
Soon after Dr. Gey isolated this strain, Dr. Jonas Salk was able to use HeLa cells to develop a vaccine for polio, a mid-twentieth century medical horror that paralyzed tens of thousands of victims – and killed thousands more – each year. Interest in HeLa cells took off from there. In the ensuing years, over 10,000 patents involving HeLa cells have been registered. Today, these remarkable cells are used to study AIDS, Parkinson's Disease, the effects of poisons and radiation, the human genome, cancer, viruses and vaccines – including the COVID-19 vaccine.
It was standard practice in the 1950s to harvest discarded cells from patients without their knowledge or consent. Henrietta Lacks' family was unaware of her remarkable contributions to medicine until the 1970s. However, she became the subject of a 1998 documentary, and in 2017 HBO aired a biopic on her life. In 2018, a portrait of Henrietta Lacks (above), by Kadir Nelson, went on display at the Smithsonian Museum's National Portrait Gallery and National Museum of African American History and Culture at the National Mall in Washington, D.C.
Her life, death, and subsequent immortality went on to become the subject of a New York Times Bestseller by Rebecca Skloot titled The Immortal Life of Henrietta Lacks. You can purchase this book at the Mütter Museum of the College of Physicians of Philadelphia (among other places). The College of Physicians of Philadelphia was started in 1787 and the Mütter Museum opened in 1863. It is one of our country's foremost medical museums, with its sometimes grotesque but always fascinating collection that you can preview here. The Mütter Museum is located at 19 South 22nd Street in Philadelphia, Pennsylvania.
I hope you enjoyed our little foray into the realm of science and its interface with American History. Of course we only scratched the surface! Please leave a comment letting me know about your favorite scientist or figure in African American history.
---